Casey Hayes, AJ Thurston Chair of Music and Director of Choral Activities, has done everything in their power to allow the Franklin Choir to continue singing for a year defined by COVID-19.
His semester was tough because he's difficult to lead when students can't see him and he can't hear them effectively, he said. Plexiglass partitions that confine each student to their own personal space distort and blur students' ability to see.
Due to these difficulties, the group's growth has stalled, but Hayes said they could pick up where they left off in the spring, unlike other schools that canceled the choir for the semester. Most nearby colleges, including Indiana University, have taken this route, so Hayes is grateful the choir continued to Franklin. He is also proud of his students who persevered in difficulties.
"I love my children. I feel horrible that they don't have the choral experience that they normally would have, but at least they get some choral experience, "said Hayes.
The college fully supported his efforts to continue learning in person, Hayes said, especially once he sent them scientific studies demonstrating how the activity could be conducted safely.
"We couldn't have asked for more… They agreed from the first moment," said Hayes.
But since the transition to e-learning, which will continue until the end of the semester, the management of the choir has been quite hectic. Some of its students are quarantined and others feel pressured to stay on campus, although it is not their first choice.
"Since we weren't asked beforehand how we were thinking, we had to catch up on the fly," said Hayes.
Hayes was helped in the planning of the choir this semester by his friend, an outgoing CDC employee. With these tips, Hayes designed a setup that allowed six-foot distances between students and used Plexiglas screens to block sputum droplets traveling through the air. Hayes said these steps, along with wearing masks while singing, promote the safest possible environment for the program.
This isn't the first challenge Hayes faced during his time in college. When he was hired as a faculty member years ago, there was no music program apart from a choir of seven and a group of five, he said. he declares.
Since then he has been working on the creation of the Music Department, carefully hiring all the music professors and lecturers who have joined Franklin Faculty. He also worked to find the rehearsal spaces for the ensembles, as the Johnson Center for Fine Arts lacked rooms large enough to accommodate an orchestra or choir.
"We had to create space to exist because this building was so poorly designed. It wasn't designed for music, "said Hayes.
Despite all of this hard work, Hayes said the choir is more than just rehearsal – it's about friendships.
"The ensembles are their own sense of community," said Hayes. "If we had let go of that sense of community, it would have been like rebuilding again. "
As Hayes reflects on what it's been like to lead a choir this semester, he can't help but think that will always change a bit. He said he hated the stress COVID-19 put on his students.
"I'm grateful we were able to do it, but I'll be so happy to see it in the rearview mirror. I don't even want to go back to it, "said Hayes.
Still, he said doing his job this year has been easier for him than others.
"Every conductor faces the same issues right now. I just think because of college I face a lot less problems, "Hayes said. "We can have a choir and other schools don't… We are very lucky. "
Senior choir member Jackie List expressed a similar sentiment.
"It shows the dedication to the music program and also the dedication to the students," List said.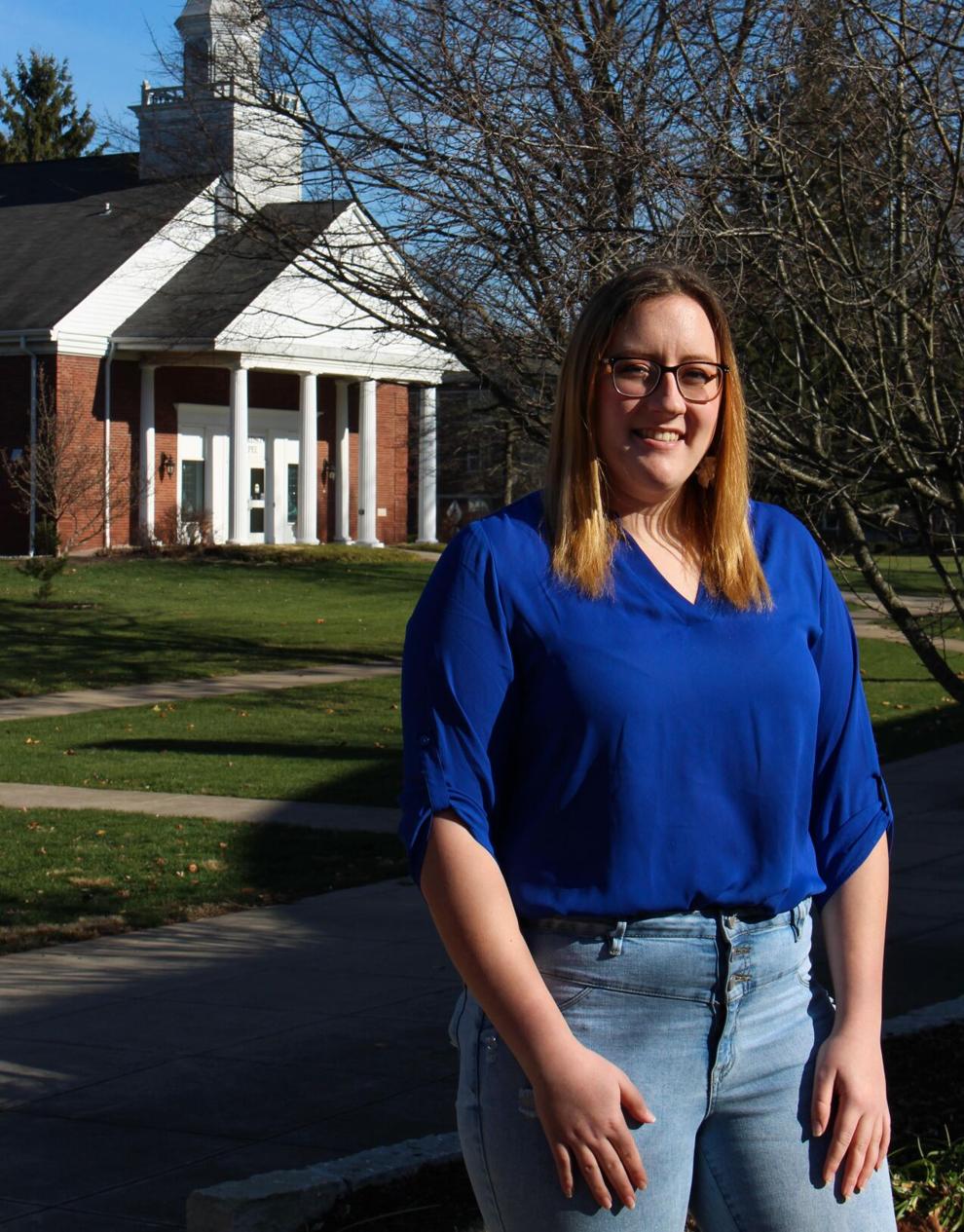 This semester could easily have been a step back for the group, she said, but Hayes didn't let that happen. There was a lot of confusion following the announcement of virtual learning, but she said students still wanted to show up in class. She attributed this to the social bonds that formed in the group.
"You almost develop a family aspect with the backing vocals," List said. "It can be a very good support structure. "
List joined the choir in its first year and has remained there ever since.
"Watching him grow and see the talent develop through this program – it's really great to watch, and I'm really grateful to have been a part of this choir," List said.
As a music major, she studies to become a choir director after graduation as she enjoys singing and wants to share joy with others. She said Hayes has been a great role model who has pushed her to new heights. In the women's choir, he lets her conduct one of the songs from their next performance, so now she understands how difficult it must have been for him to conduct this semester.
"The sound is moving weirdly in there," List said. "It's definitely a challenge both as a student and as a person leading up there."
Through her participation in the choir, List said she has become more open and outspoken. She has also developed the professional skills necessary for her career path.
Freshman Jason Arbogast is also happy that the choir is meeting in person, as it gives him the opportunity to see his friends and maintain a sense of oneness among his fellow singers. Still, he said he got a special first impression of the class.
"When I first walked into the choir room with all these plexiglass things, I thought to myself: what's going on? What is that ?' Said Arbogast.
Even outside of music, Arbogast said his freshman year had been weird due to the coronavirus. Nevertheless, he enjoys his stay at Franklin College. He said he might not be here if it hadn't been for Hayes, who judged one of Arbogast's vocal quartets in high school and convinced him to come to Franklin, where he has since earned the student's respect as a director.
"He's phenomenal… He knows what he's doing, he's got the talent — obviously — and he's just a great guy all around," Arbogast said. "My first impression of him was' I love this guy. I want him as a manager.
Now that he's here, Arbogast plans to take a minor in music in addition to his major in exercise science. Despite the challenges this semester has brought, he is optimistic about his future at Franklin.
"I'm excited for the next three and a half years of music, to see where it takes me and how much I can improve," said Arbogast.
The choir is recording an audio performance to share with the community, which is expected to be posted online in the coming days.