BEAUFORT – The coronavirus pandemic is wreaking havoc on enrollment in group and choir programs at middle and high schools in Carteret County.
Carteret County Schools' arts education director Craig Everett said total enrollment in group and choir programs was down 20% for the 2020-21 school year compared to previous school year.
"Unfortunately, the decline in enrollment in school music programs has occurred statewide, and even nationwide, due to COVID-19," he said. "This is not unique to public schools in Carteret County."
The school that recorded the biggest loss was West Carteret High School, which saw a 41.7% drop in choral enrollment. The number of registrations for the WCHS band program has declined by 17.6%.
WCHS choir director Jeffrey Danielson said the combination of the loss of performance in the spring of 2020 and the recruiting season, combined with a large number of senior choir members graduating in 2020, had negative consequences for its program this year.
"I hope when we get back to normal it will resume. We are having an outdoor show at Camp Albemarle on (Thursday) December 17th. This will give the students the chance to perform Christmas music. The students appreciate this chance to happen, "he said.
WCHS Group Director Andy Wright has agreed that COVID is hitting music programs in a variety of ways.
"It affected everything. When we were sent home this Friday in March, our big recruiting tour (group) in colleges was scheduled for this Monday which was obviously canceled. Without these recruiting gigs, we immediately limited ourselves to recruiting through technology. It was the first shot, "Wright said.
He continued that the inability to have a group camp where students can meet new members and develop lifelong friendships has added to the struggles. Limiting the ability to play indoors and dividing group classes into instrumental sections during the school day also had an impact on lessons.
In addition, not being able to participate in football matches, competitions and other events has resulted in a drop in numbers.
"It was all washed away," Wright said. "I will say, however, that we seek and find opportunities every day. What can we learn from this? How are we going to be better on the other side of this pandemic? We strive to find something positive every day.
WCHS Junior Marisa Lewicki, a member of the WCHS Singers, said she has noticed the decrease in the number of students in her class, but is hopeful that enrollment will increase once a regular schedule is restored in the future.
"I am cautiously optimistic," she said. "I hope people will come back and get back to music. I've always loved music and it helped me during (the pandemic). "
Patrick Reindl, a junior from Croatan High School, who plays the alto saxophone and serves as the drum major in the group, said he also hopes the group will rebuild once the pandemic is over and regular class times resumed.
"I think that will be the case, especially for the older members who were part of the group before COVID," he said. "Now we enjoy full set performance and walking more. "
According to Mr. Everett, there are 1,021 students enrolled in in-person music and choir classes for 2020-2021 at the county's three high schools and five colleges. This compares to 1,263 students in the 2019-2020 academic year.
In addition, 210 students virtually attend the orchestra and choir.
Enrollment in high school visual arts and drama classes remained stable, he added.
In middle and high schools, most students attend two days in class and three days virtually. The others attend virtually. Elementary students are in class five days a week, except those who choose to attend virtually.
Mr Everett said he believes that once schools return to a regular schedule, enrollment in groups and choirs will gradually start to increase.
"Once the (COVID-19) restrictions are lifted, we feel like our choirs are going to bounce back quickly," he said. "It will take longer for our groups to recover as it takes years to develop their skills and enrollment in junior high school groups will negatively affect our high school groups for years to come."
Mr. Everett explained that starting in grade six, the marching band programs were closed last spring just at the start of the marching band recruiting season. In addition, the registration meetings took place virtually.
"We really think it hurt the entries," he said.
Regarding the high school marching bands and choirs, he said, "We have fewer numbers because the marching bands are unable to compete and do traditional performances due to (COVID-19). The students were also informed (initially) that they would not be able to play any instruments indoors during the orchestra lesson and that there would be no possibility to perform. The numbers of choirs are also declining for the same reasons. They were told that they could not sing during classes indoors.
That has now changed thanks to federal funds from the CARES Act providing air cleaners and other personal protective equipment that allow students to sing or play for up to 30 minutes at a time in one location.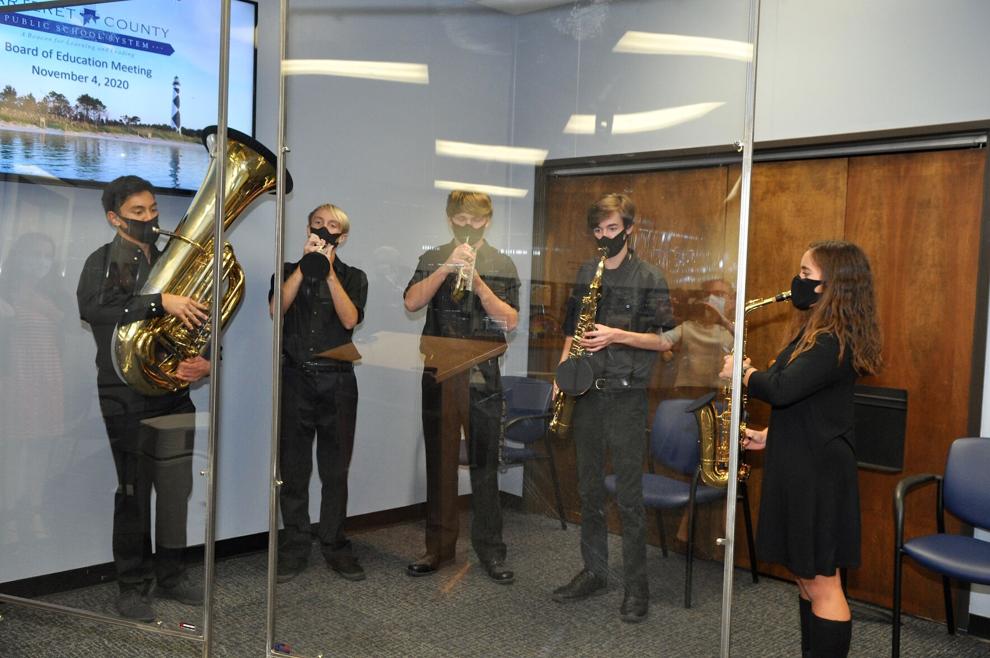 "As a result, we hope that the number of registrations for music courses will increase for the second semester," he said.
Although schools are not open to the public, outdoor holiday concerts are scheduled by all school groups and choirs, according to Mr. Everett.
"The (COVID-19) restrictions will prevent our bands from marching and performing in the area's holiday parades, but community concerts are planned where musicians can socially distance themselves from 6 to 8 feet, depending on the instrument. 'they play,' he said.
Mr Everett added that the county's school system is one of the few in the state that has the PPE needed to play music indoors.
During the school board meeting on November 3, members of the East Carteret High School Choir and the Croatan High School Group demonstrated how clear sneeze barriers are used to protect principals and students.
"Each choir or conductor is invited to stand behind the partition while the class sings or performs," Mr. Everett said.
In addition to the protective walls, the school system purchased air washers to purify the air.
"With HEPA filtration that changes the air three times per hour, our bands and choirs are now able to sing and perform indoors for up to 30 minutes at a time," said Mr. Everett.
Other protective measures include face shields and masks for choir members and all musical instruments belonging to the school have been chemically cleaned by a professional before the school opens.
Mr Everett said the school system's arts education department drafted COVID-19 protocols over the summer that are now in use by other school districts across the state.
Contact Cheryl Burke at 252-726-7081, ext. 255; send an email to [email protected]; or follow us on Twitter @cherylccnt.